Health Department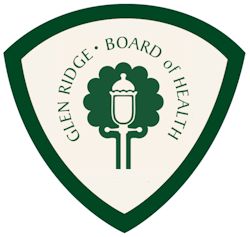 The Glen Ridge Board of Health is committed to promoting, protecting and ensuring the healthy well-being of the residents of the borough. In addition to keeping our citizens current on emerging public health needs, it actively investigates actual and potential health concerns.
It also endeavors to inform and educate residents and town officials concerning these issues, including laws and regulations that protect health and ensure safety, and strives to link residents to available public health services. The latter is accomplished through collaboration with the Bloomfield Health Department.
The Board generally meets at 6:00pm in the conference room of the Glen Ridge library on the third Monday of the months of September, November, January, March, May, and July. Residents are welcome to attend.
2022 Members
Deborah Priestman
Donna Lifson
Christopher Valerian
Jacqueline S. Yustein
Michael Sherman
Donna Heinzen
Michael P. Zichelli, Borough Administrator
Michael Fitzpatrick, Health Officer