2022 Jitney Permits Information
Jitney Cards
All 2021 Monthly Jitney Cards will expire. Upon renewal jitney card holders will receive a new card for 2022.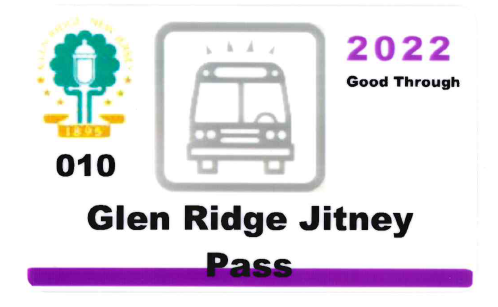 You may purchase stickers for the card for any amount of months you choose at $30.00 per month. You may also purchase a 2022 yearly pass for $300.00.
10-Trip Booklets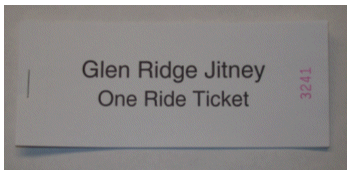 Booklets have no expiration date and are good from one year to the next. $25.00 for a booklet of 10 single ride passes.
For all purchases:
Payment (check payable to: Borough of Glen Ridge) and application must be received 10 days prior to the last day of the previous month to receive a Monthly Card by mail. Mail to: 825 Bloomfield Avenue, Glen Ridge, NJ 07028 ATTN: Jitney OR
Purchase online via the Online Payment Center
Monthly Cards/Books may be revoked for behavior deemed inappropriate.
Accessibility is based upon seat availability/capacity of vehicle.
Monthly Cards/Books are nontransferable or refundable.
We cannot prorate.
Download Jitney Permit Application
For further information, please contact Bob at rbrainen@glenridgenj.org or call 973-748-8400 (ext. 262)