Greetings From The Mayor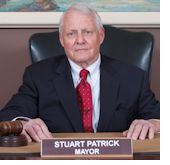 Welcome to the Glen Ridge, NJ website. I hope you will find it helpful and informative.
Glen Ridge is a truly special place in which to live. We are a dynamic and thriving small community, situated in a historical setting, evocative of a more tranquil by-gone era, as exemplified by our gas lamp logo.
Visitors to Glen Ridge are greeted by lovely gas lamp lit, tree-lined streets with towering oak and maple trees which provide leafy canopies over many of our roads. Beyond these trees lie a stately collection of well-maintained historic homes whose architectural integrity is stringently preserved, as 90% of the Borough is included in a historic district that is on both the State and National Registers of Historic Places. In many areas we still walk on slate sidewalks. Finally, we are fortunate to have a lovely gazebo, located in a secluded glen with a brook flowing through it, where concerts take place in the summer.
Beyond its ambience, Glen Ridge is a dynamic small town noted for its excellent, highly rated school system, a police department committed to providing a quality service to our residents through the cultivation of community partnerships and mutual respect, and a library, on the leading edge of service and technology, which provides our residents a place to learn, discover and grow. Located in the heart of Essex County, we have easy access to New York City by car, bus or train. The perception of Glen Ridge, as a small town, is enhanced not only by the professionalism of our administrators and staff, but also by the hundreds of resident volunteers who contribute their efforts to over 25 boards, agencies and other organizations that provide "larger-community" services, with a neighborly touch, covering almost every facet of life in the Borough. Finally, we are particularly proud of the wide array of amenities and services that we provide our residents which enhance the quality of their day-to-day lives.
- Mayor Stuart Patrick