Glen Ridge Police Department is a full service agency working for and with our citizens to provide vigilant protection and quality service to its residents.
All officers are committed to excellence in community policing.
Police - Fire - Medical Emergency Call 911 Glen Ridge Police Department
3 Herman Street
Glen Ridge, NJ 07028
Phone: 973-748-5400
Fax: 973-748-8477
GR Police Department TIPS Line (click here)
Record Bureau or call 973-748-2995
Safe Routes To School
The Safe Route Map is a guide on the safest route for students to take when walking or biking to school. They are encouraged to use these routes, as the intersections indicated on the map are staffed with
School Crossing Guards (click for times & posts)
.
To view the Safe Routes MAP please Click Here
For additional information go to:
www.nj.gov/transportation/community/srts/
Community Information Service
The Glen Ridge Police Department utilizes the NIXLE communications service to send important, valuable community information directly to residents. Please register via this link:
https://local.nixle.com/zipcode/07028/
The Glen Ridge Police Department Child Safety Seat Inspection Program
The National Highway Traffic Safety Association (NHTSA) recommends all children under the age of 12 ride in the backseat.
Complete information on the program
Stop Public Corruption
The State of New Jersey Office of the Attorney General announces two new initiatives to fight corruption:
Reward Program
and
Whistleblower Program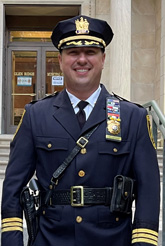 National Drug Take Back Initiative
G.R.P.D. Seeks Volunteers for the Domestic Violence Response Team
Glen Ridge Police get body worn cameras
E-mails are monitored Monday through Friday during normal business hours and should not be considered as an emergency contact for the police.