Shade Tree Commission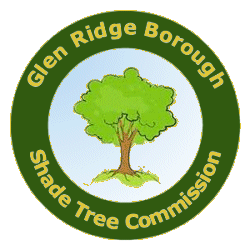 Mission Statement
The public shade trees of Glen Ridge are our heritage and responsibility. The Shade Tree Commission is charged with developing a flexible strategic plan, practical goals and defined steps to ensure that shade trees are planted, maintained and monitored over time. This commitment to healthy trees represents a long-term investment in the beauty, biodiversity and historic character of Glen Ridge.
Saving Our Community Forest is an Imperative
Glen Ridge's community forest is one of the Borough's greatest assets. The trees have gone from a pleasant Borough wide amenity to an environmental imperative in this time of climate change. The nearly 3,700 trees that line our streets serve many important functions including cleaning the air we breathe, shading our streets, cooling our homes, slowing stormwater run-off and adding to property values among other benefits. Yet, this valuable asset is in decline with nearly 60 trees dying and being removed each year. Faced with an aging tree population, a Maple dominant monoculture subject to pests and disease related problems, and severely constrained planting strips between the road and sidewalks, we face a sizable challenge to ensure that the beauty of Glen Ridge is maintained for future generations.

Tree Request Center: Request a tree inspection (click here)
Useful Links
Richard Wolowicz, NJ Tree Expert, the Glen Ridge Arborist, works on Mondays and can be reached via e-mail at trees@glenridgenj.org or by phone at 973-748-8400 ext 202